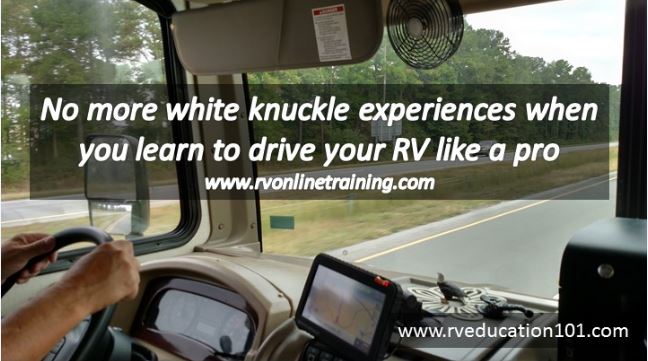 Video hosts Mark Polk (RV Education 101) and Lorrin Walsh (Professional driver & author of Drive Your Motorhome Like a Pro) provide you with the tools you can apply to help you become a professional driver. That means professionalism developed by the ongoing awareness of driving motorhomes, and the execution of unique driving techniques and skills needed to become a safer and a more confident driver.

What is Pivot Point you ask?
The pivot point is defined as the fixed point on a vehicle at which the vehicle rotates around in a turn. On a two axle vehicle it is the center of the rear axle. This means that if an object, for example a tree, is located at the center of the rear axle or behind, you can turn toward the object and not hit it. If the object is ahead of the pivot point and you turn toward it, you will hit it.
There is a lot of information in the Drive Your Motorhome Like a Pro. It is your complete online course to professional driving techniques for beginners to experienced drivers. The course chapters include in-depth training on terms and definitions, professional maneuvering techniques, getting ready for the road, pre-trip checks, driving the motorhome, braking techniques and mind set. The course takes commercial driving training techniques and converts them to layman's terms, and explains basic rules you can apply to any vehicle you drive.

CLICK HERE to see more about the online course
CLICK HERE if you want the DVD