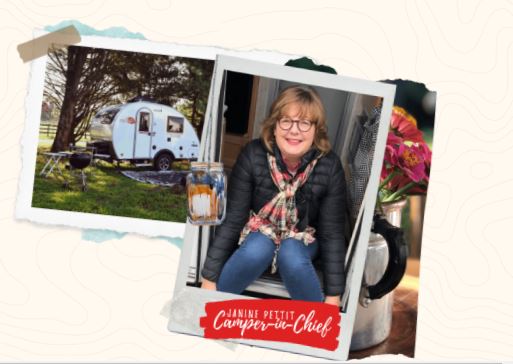 Girl Camper encourages and inspires Girl Campers and all those who camp.
Janine has become an Ambassador for the Girl Campers everywhere. She encourages them to go places and do things check out her Girl Camper Podcast

Girl Camper-in-Chief Janine Pettit has this to say: "Every industry has those that rise to the top and just outshine others with their zeal and enthusiasm. They love what they do so much that they create all kinds of content to make it easy for us to understand things that are foreign to us.
Until I met Mark Polk (of RV Education 101) I had no clue why axel ratios were important in tow vehicles. I also didn't know until I met Walter Canon what the GVWR was or why it was important that I understand it. Stephanie Henson helped me figure out what my RV electrical system will do and not do! It's more fun to camp when things work!! I've leaned heavily on Alan Taylor when talking about tow vehicles and, thanks to Holly Boros, our personal safety expert, I am on 'white alert' when I am out and about.